In this workshop the participants were encouraged to make use of available literature at NICEE library and Central Library for doing quality research work. These faclilities were made available to the participants till late in the night. During the Workshop the participants also had interaction sessions with Prof Durgesh C. Rai, Prof Amit Prashant, Dr. KK Bajpai and Dr. Rajeev Gupta. During these sessions the participants were given tips on conducting a meaningful literature survey to advance in to the area of research topic chosen for M.Tech./Ph.D. theses.
A visit to the National Wind Tunnel Facility at IIT Kanpur along with a visit to the various laboratories of Civil Engineering was also organised, so that the participants get abreast with the latest available technologies in the country. The participants also deliberated at length with PhD scholars of IIT Kanpur Mr. Goutam Mondal and Mr. Vaibhav Singhal regarding their thesis topics. During the closing ceremony Mr. Pavan M. Pathak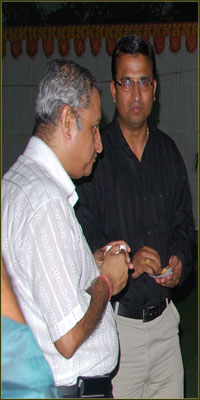 , the winner of Best Thesis award 2005 and his guide Dr. OR Jaiswal of VNIT, Nagpur were also present. They also gave tips to the participants regarding the conduct of a meaningful literature survey and its proper presentation in the correct format.